Maelz Sport
Main Screen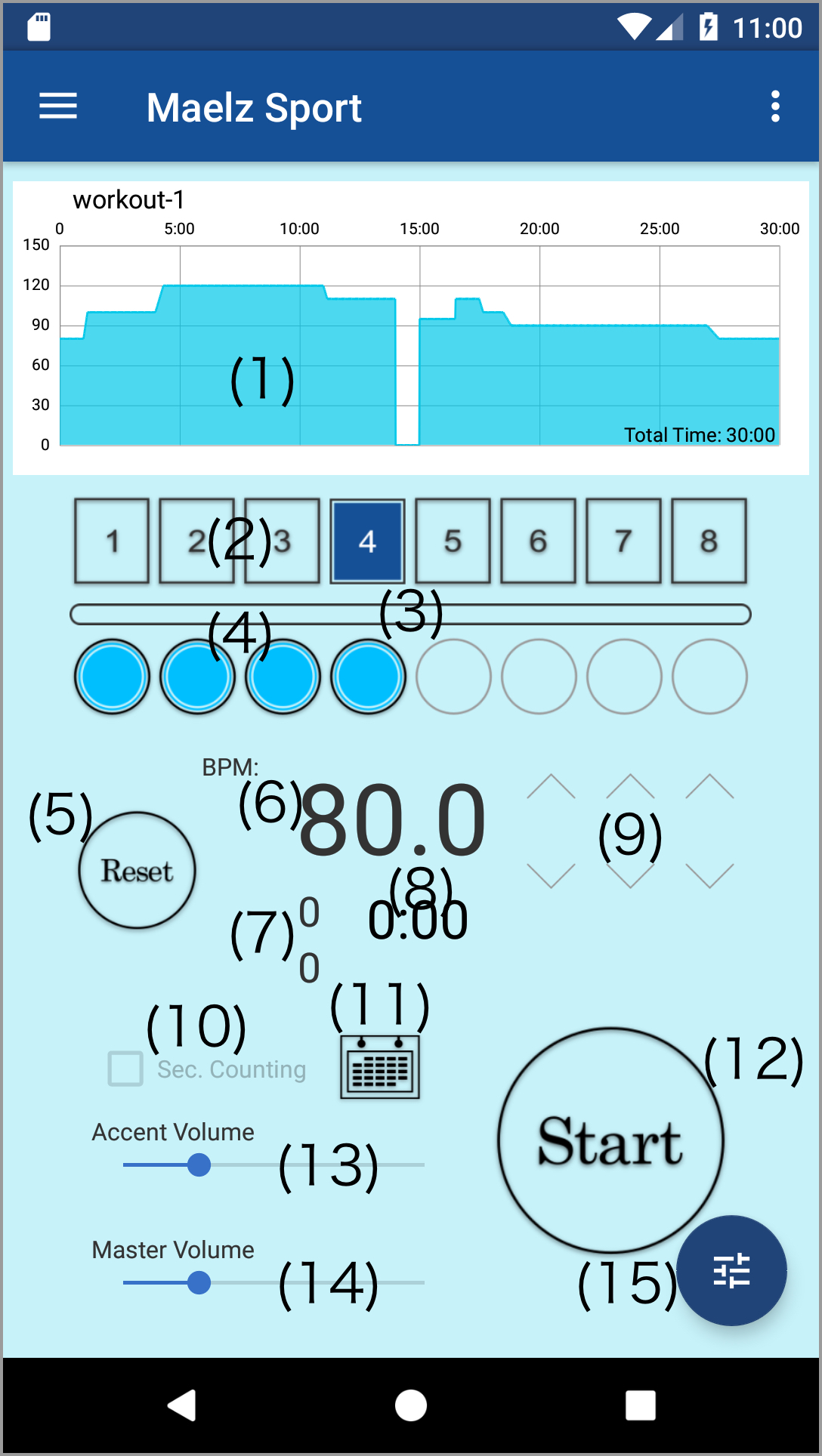 (1). Chart of Workout:
It is a chart that shows the change in a tempo.
(2). Unit Size Selector:
You can choose beat pattern size in 1 to 8.
(3). Beat Indicator:
displays beat progress.
(4). Beat Selector:
Press this button, beat -> accent -> rest -> beat...


beat

accent

rest
When out of a unit, this button is disabled.


out of unit
(5). Reset Button:
reset "from time" for the calendar app, beat counter, unit counter and time.
(6). Tempo(BPM)/Count:
when stop playing, tap, tap, tap here, it will measure the tempo, show on display.
(7). Beat, Unit Counter:

(8). Time:

(9). Up/Down Button:
Tempo is counted up(or down).
For example, if you set to 60 BPM, you will get a beat of one-second intervals. And set to 120 BPM, you will get a beat of 0.5-second intervals.
Sorry, it does not correspond to long press.
(10). Seconds Counting:
Switch to sec-counting mode.
Sec-counting mode needs TTS(text to speech).
If you can get no sound, please check [Settings] -> [Language & input] -> [Text-to-speech output] on your phone.
(11). Calendar Button:
You can create a new memo to built-in calendar app.
It settings tempo, beat pattern and time in "Description".

What has been written may be synchronized, public and share based on the setting of calendar app.
We recommend that you use from make sure to check the settings of calendar app.
(12). Start/Stop Button:

(13). Accent Volume:

(14). Master Volume:

(15). Settings Button:
It will transition to Settings dialog.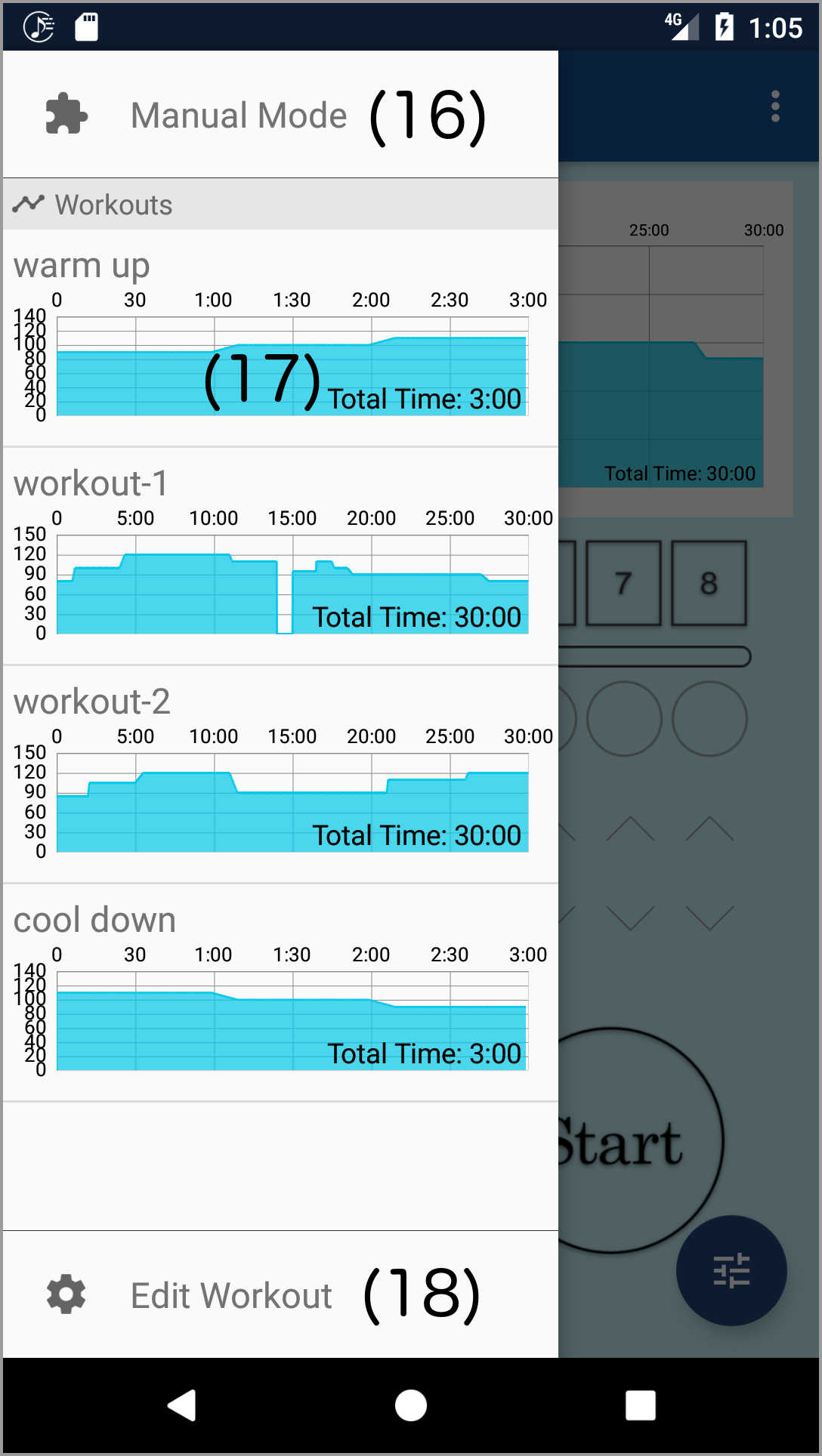 (16). Menu(Manual Mode):
Tap here. This app becomes manual mode.
If you change the mode, stop the playback, and counters are reset.
(17). Menu(Workout List):
You can choose a workout.
If you change the mode or workout, stop the playback, and counters are reset. The workout that not has interval will not be displayed.
(18). Menu(Edit Workout):
It will transition to Workouts Screen.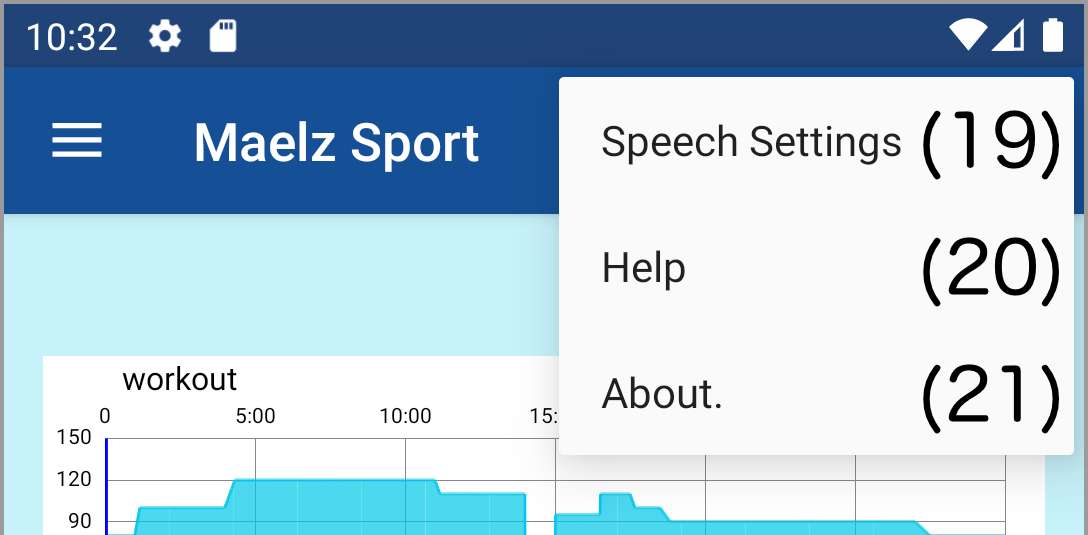 (19). Speech Settings:
It will transition to Speech Settings Dialog.
(20). Help:
It shows help.
(21). About:
It will transition to About dialog(information about the version).
(c) 2013 Blowbend.jp
All Rights Reserved.