TN-1M
Main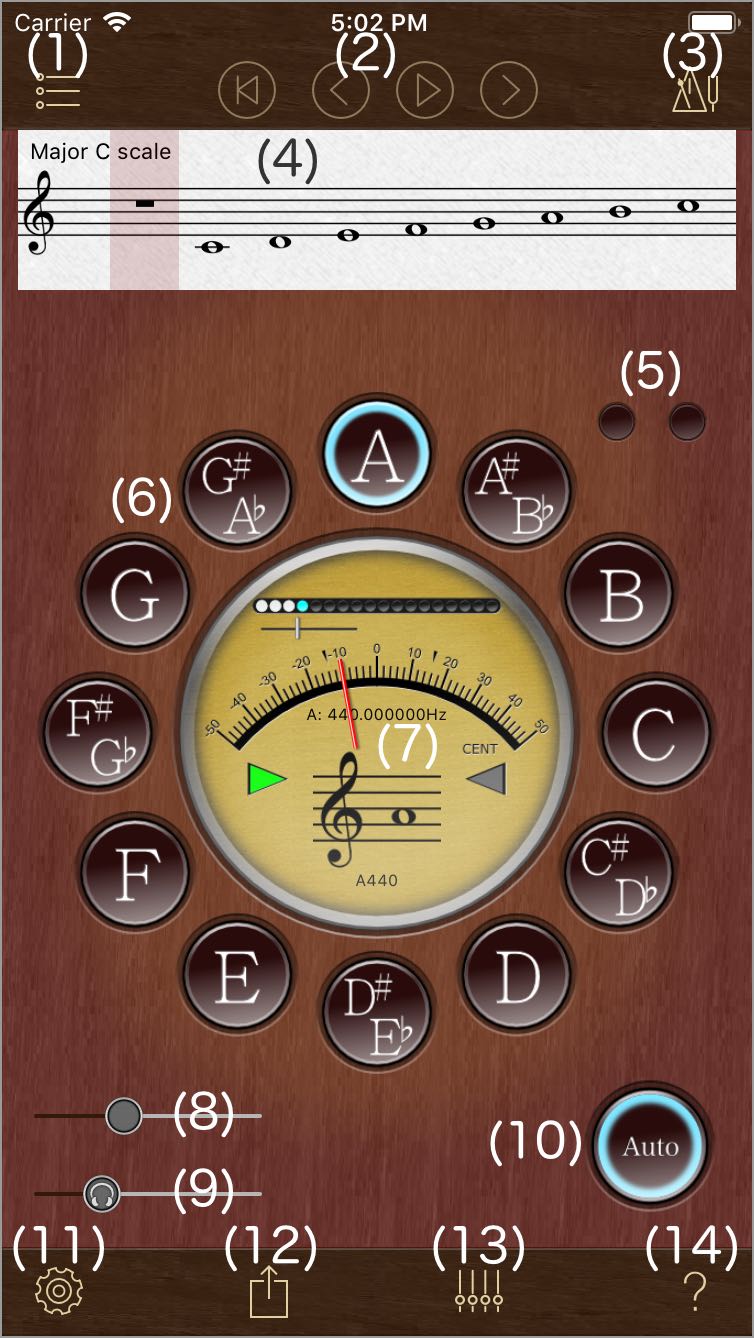 (1). Menu Button:
Open or close practice menu from the left side.
(2). Practice Control Buttons:
From the left, go to the top note, go to the previous note, start/stop, next note.
(3). Metronome Button:
Open and close a metronome right side.
(4). Staff of Practice:
Show the staff select practice.
You can use the staff function by purchase 'Remove Ads'.
(5). Beat of Metronome:
Left light is an accent. Right one is a beat.
(6). Note Button:
On auto mode, this buttons becomes the indicator of detecting note.
(7). Meter:
Target pitch is the point of zero.
(8). Response:
This slider is used to set the volume level to detect the pitch. When you move to the left direction, sensitivity becomes DULL.
This slider goes hand in hand with an indicator in a meter.
This is appearing on Auto-mode.
(9). Earphone Volume:
This is a volume of guide-note.
Please use it with the volume which does not hurt your ears.
This slider appears when the earphone is plugged on Auto-mode.
(10). Mode Button:


Off: Stop all this app.

Manual-mode: switch target note by note-button.

Auto-mode: switch target note automatically.
(11). Settings Button:
It will transition to Settings Screen.
(12). Share Button:
You can send a practice to your friend by AirDrop or email.
Please look at "How to share by AirDrop" or "How to share by email".
(13). Violin Tuner Button:
It will transition to Violin Tuner Screen.
(14). Help Button: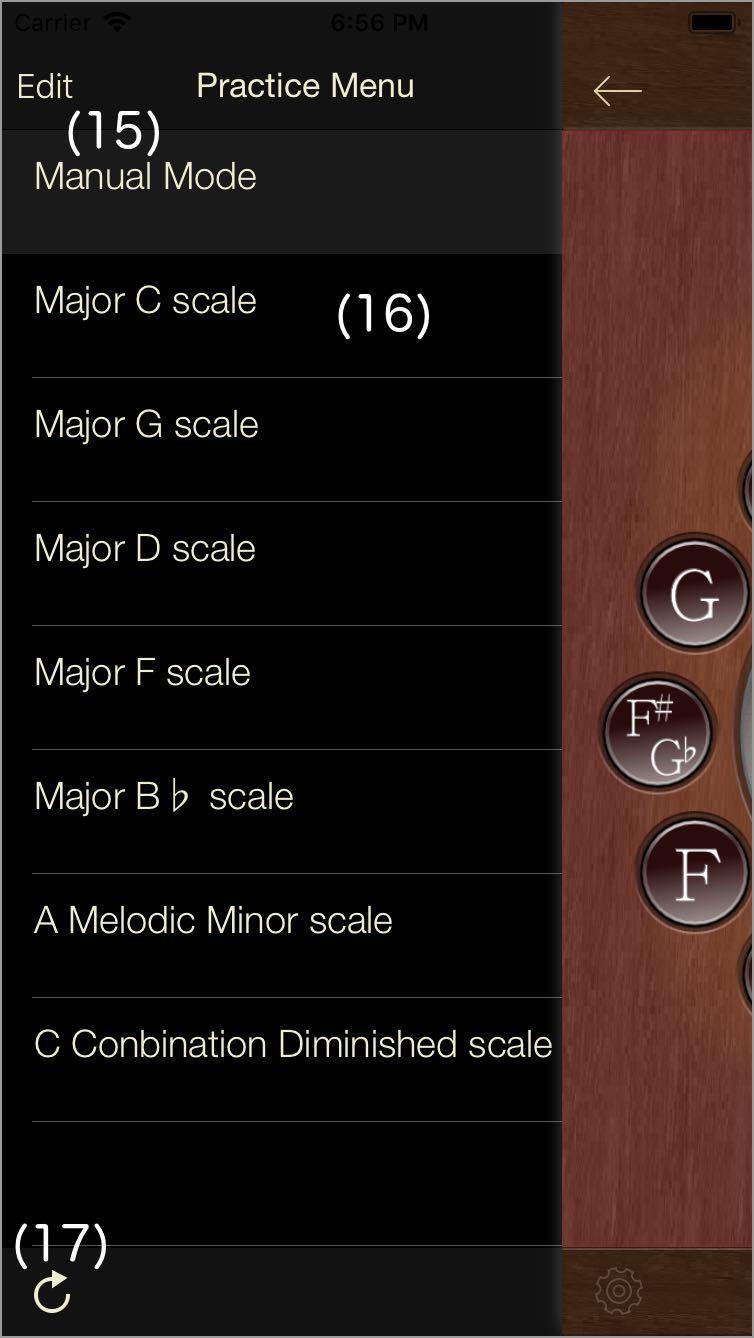 (15). Edit Menu Button:
It will transition to Edit Menu Screen.
(16). Practice Menu:

(17). Refresh Button:
Refresh practice menu.
Use this button when you are importing practice data.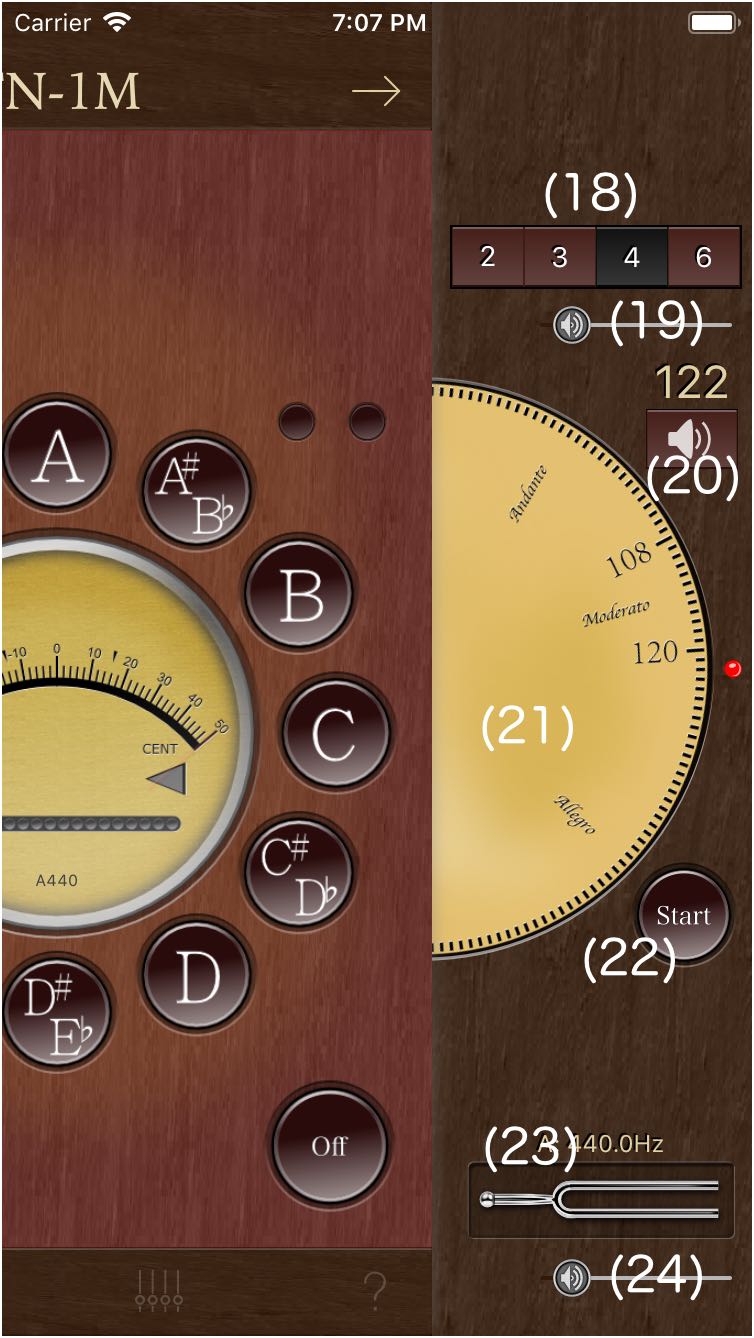 (18). Accent:
You can choose accent interval in 2, 3, 4 or 6.
(19). Accent Volume:
This slider to the minimum, no accent interval to be.
(20). Mute Button:
Mute the metronome.
(21). Tempo Dial:
It changes tempo between 40 and 208 beats per minute.
(22). Start/Stop Button:
To start the metronome, with the mode-button will be ON.

(23). Tuning Fork of Standard Pitch:
To the sound is when you tap. The sound will stop when you tap again.
(24). Volume of Tuning Fork:
© 2015 Blowbend.jp
All Rights Reserved.